Hot Topics 娛樂追蹤
Since 1994, Vancouver's multicultural radio station, Fairchild Radio, has been organizing an annual charity campaign called "Winter Warm Wave Clothing Drive", collecting used clothing for the Salvation Army while promoting caring and compassion in general. Celebrating its 20th anniversary this year, Winter Warm Wave 2014 has collected a total of 47 tons of clothes in the 6-week period.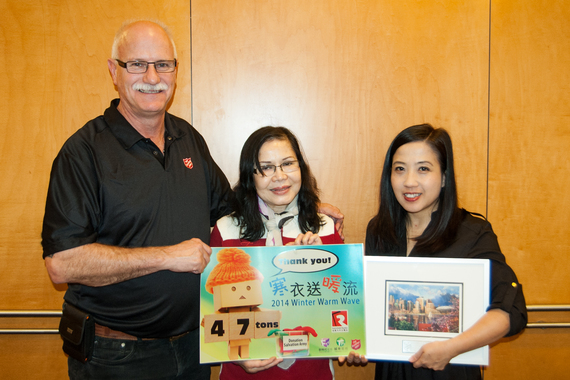 On top of the designated collection bins placed at various locations in Lower Mainland, a temporary collection booth was set up for two Sundays at Aberdeen Centre in Richmond where Fairchild Radio is located. Helping out at the booth were the 2014 Sunshine Boyz and Girlz (participants in Fairchild Radio's teen talent search) as well as the 2014 Little Sunshine (another talent search by Fairchild Radio, but for children between 4 and 12 years old). These young volunteers, proudly named the Winter Warm Wave Ambassadors, worked hard in collecting hundreds of bags of used clothing from donors, weighed them on a scale, kept a tally of the donation weight then updated the number simultaneously on a large display board.
| | | |
| --- | --- | --- |
| | | |
Including the donations collected on the two Sundays at Aberdeen Centre, Winter Warm Wave 2014 has collected a total of 94,104 pounds of used clothing items, which is roughly equal to 47 tons. All the donations were passed to the Salvation Army to help the homeless and those in need.