Festival Du Bois
2022/03/09 (Wednesday)
FESTIVAL DU BOIS
April 1-3, 2022— Mackin Park, Coquitlam
1046 Brunette Avenue (across Lougheed Highway from IKEA)
The 33rd edition of Festival du Bois returns live to Mackin Park in Coquitlam for a weekend of brilliant folk, roots, global and Québécois music from French Canada and beyondfrom April 1-3. After a highly successful online event in 2021, in-person audiences can expect an enthusiastic"welcome back"for concerts and more in the big tent (the Grand Chapiteau) and other venues on-siteoutdoors inMackin Park, Coquitlam. Not only does the festival present some of Canada's finest music artists at a very affordable ticket price, itoffers engaging entertainment especially for kids and families, on-site performers, workshops, fabulous food, a market area, and a wealth of bon esprits.
The festival's Artistic Director, Joanne Dumas, says "We can't wait to see everyone again in Mackin Park. This year's festival offers folks the chance to gather together safely, experience an eclectic range of great music, and celebrate - in person. We invite you all to come hear some amazing artistry – from Québécois traditional music to a fresh take on Zydeco, from Métis jigging to African melodies and musical innovationsthat blend old and new. Plus - there's so much to discover and enjoy over the weekend.
Pre-Festival Events– free with online registration at www.festivaldubois.ca
FESTIVAL ARTISTS AND DETAILS
Christine Tassan et les Imposteures in concert
Saturday, March 26, 7:30pm - Place des Arts, 1200 Brunette Ave., Coquitlam
This Gypsy jazz band draws inspiration poetry and swing to weave a rich new musical universe.
L'Arracheuse de temps by Francis Leclerc – screening (in French w/ English subtitles)
Thursday, March 31, 7pm - Cineplex SilverCity, 170 Schoolhouse St., Coquitlam
"The Time Thief" is a 2021 Canadian period drama and fantasy film about an illness-worn grandmother uses stories from you youth to try to convince her 11-year-old grandson that death does not exist.*
FESTIVAL OPENING NIGHT, Friday, April 1(FREE)
A special kick-off event with BC fiddling dynamo JOCELYN PETTIT and her BAND followed bythepopular Friday Night Contra Dancefeaturing live music by the SYBARITIC STRING BANDwith caller, Maureen Collier. No Aprilfoolin' – it's time to kick up your heels again! (Free with online registration at www.festivaldubois.ca. See below for COVID-19 policies in effect).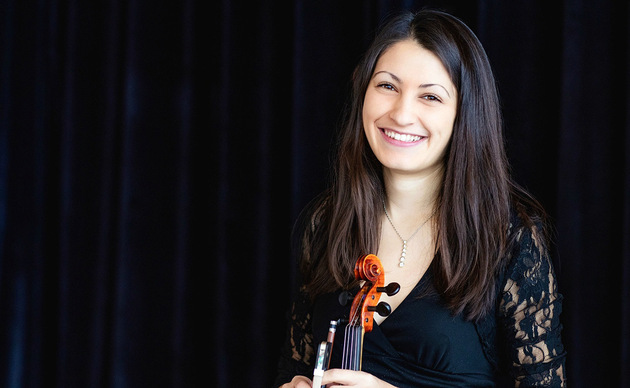 Jocelyn Petit
PERFORMING IN THE GRAND CHAPITEAU (BIG TENT) ON SATURDAY & SUNDAY, APRIL 2 & 3
LE DIABLEÀ CINQ are five young dynamic multi-instrumentalists and singers of traditional music from Québec's Outaouais region.
THE McDADES are known for their ability to punch through the walls of tradition. Their Celtic-rooted music "finds it's groove somewhere between a down-home kitchen party, a jazzy after-hours club, and a folk festival."
LE WINSTON BAND is Montreal's unique and glorious hybrid of rollicking Zydeco with French-Canadian roots, rock and Cajun.
ALPHA YAYA DIALLO is a brilliant JUNO-winning guitarist and internationally-renowned musician – known for his signature blend of West African musical roots with contemporary influences.
COLLAGE TRAD is a new gathering of BC fiddle virtuosos offering a musical melting pot of local fiddle traditions with a dash of swing, a pinch of jazz, a sprinkle of rock and pure folk.
MÉTIS JIGGERS - The festival is excited to again partner with the North Fraser Métis Association, Region 2as they share some of the Métis people's vibrant music and dance traditions with us all.
LOCARNO-Led by Tom Landa, this 8-piece musical powerhouse offers a celebration of sound and groove with roots in Mexican son jarocho, early Afro-Cuban son and other captivating world influences.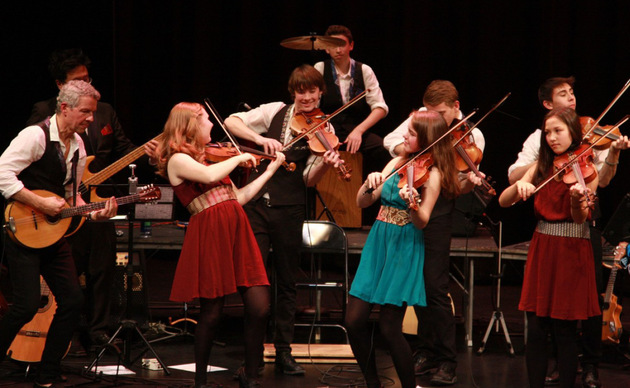 North Shore Celtic Ensemble
NORTH SHORE CELTIC ENSEMBLE is a vibrant community of young musicians from North Vancouver. They perform original compositions that draw on Celtic, classical, jazz and folk influences blended with creative arrangements of more traditional Celtic tunes.
In the CHILDREN'S TENT (PETIT CHAPITEAU), kids and families can delight to the sing-along tunes and stories of the popular WILL'S JAMS, the West African rhythms and talesof YORO NOUKOUSSI, the bilingual family folk of GINALINA,and the engaging interactive activities of Angèle Verrier from LES PETITS MATINS.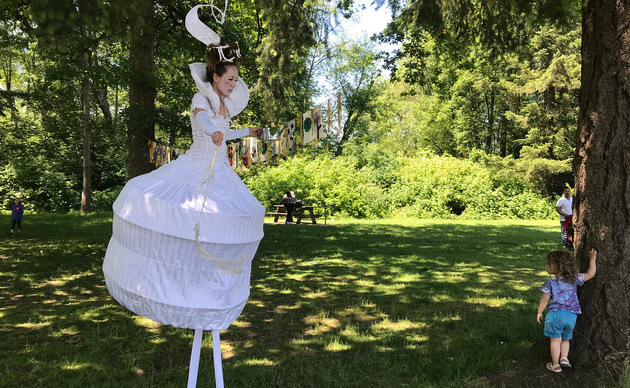 Roving Performers
While in Mackin Park, festival-goers can participate in a variety of fun activities. There are roving performers that astound and delight, traditional and popular French Canadian food - including maple taffy on snow from the Cabane à Sucre André Beauregard Sugar Shack, the Métis Experience, crankies, unique shopping, interesting exhibits, and more.
It's a festival full of lively sounds, fun activities for the whole family!Come visit Maillardville, the cradle of francophone culture in BC, to experience a taste of the community's rich roots and traditions, and experience the community's reputation for warmly welcoming folks of all ages from near and far for yourself.
For tickets go to: www.festivaldubois.ca