Medicine Fox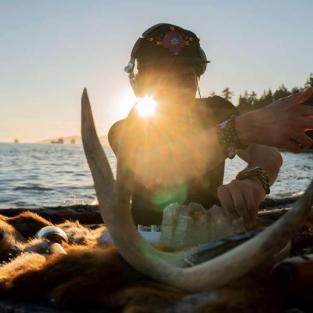 Program Name:

Turtle Island Radio
Country of origin:

Canada
A Bit About My Background:

Medicine Fox was born on Coast Salish Territory, in the place now known as Vancouver, BC. His ancestors are of mixed European and Native American (Chickasaw) descent. Medicine Fox is Production Artist, Musician and DJ Shane Wilson. His music draws inspiration from the ancient shamanic rhythms of Earth's tribal cultures and he can often be found with an eclectic set of instruments in his hands while performing a set. Medicine Fox has grown as a producer and collaborator on several projects including Tulku, Air Ananda, Primeaux & Mike, and the Grammy Award winning "Sacred Ground" project. Recently, Medicine Fox's original solo productions have been featured on the "Shanti Nyala" and "Anima Mundi" Compilation albums from the UK based Label Visionary Shamanics.
What I Like About Radio:

From years of deep listening and research, Medicine Fox has collected an extensive palette of unique music from all over the world. Sharing these sonic discoveries as a DJ is a passion and a joy, bringing together elements from DJ selections, original productions and live performance to create a truly unique experience.
Web Site: